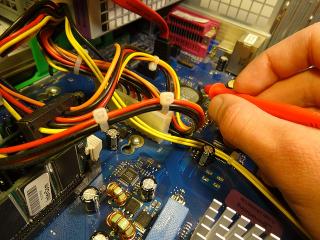 If your business is like most businesses, then you probably have a technology graveyard somewhere. It's either down the hall in a storage room or maybe even across town in a warehouse. It's that place where computers and other old IT equipment go after you've retired them from service. Some of that equipment is pure junk that needs to go to recycling, but some of that equipment has resale value. That's where Excess Logic comes in. We provide asset remarketing for companies who want to go more out of the unused equipment.
There's a Large Market for Your Unused IT Equipment
You may think that your old equipment is just that - old! You might think it's outdated and ineffective and therefore assume it's junk. But to a company overseas or a new startup right here in America with minimal capital, your old IT equipment might very usable, even essential, to their businesses. Did you know that there is a robust market for used IT equipment around the world? Yes, people are actively searching for the stuff sitting in your IT graveyard! Why not make a few dollars and help a company in need while getting rid of the old equipment you're never going to use again!?
What Happens to Your Assets When We Take Them? 
We help companies to recycle, refurbish, and remarket their unused assets. We take care of every aspect of the process, including the logistics, the packaging of your equipment, and equipment transportation. Once in our facility, our highly trained staff makes sure the equipment is cleaned and workable. From there, we override any hard drives to ensure that our clients' data has been destroyed. If we can't override the data, we will physically destroy the drives. After that, we'll either resell or recycle these units. If the unit has value, we will resell it, and give the profits back to our clients.
Finally, our clients receive detailed reports regarding what happened to every one of their assets. You'll know what we took, when we took it, if we sold it, who we sold it to, how much it was sold for, and more. Excess Logic is up front and honest about our pricing and fees from the beginning. You might be pleasantly surprised to learn how affordable our prices are. Because we are so well connected, we can very likely make your asset remarketing a win-win for both of us.
Our Asset Remarketing Solution is a Viable Option for Many Businesses
Excess Logic's asset remarketing solution is hassle-free, secure, and eco-friendly. We specialize in reselling late-model equipment to maximize returns on IT investments for our clients and to minimize recycling costs for them. For a no-obligation, free estimate of the cash value of your surplus IT equipment, fill out the form on this website or contact Excess Logic today. Even if your old equipment can't be remarketed, we can recycle it for you responsibly and take it off your hands.