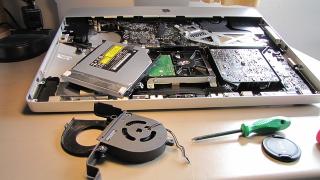 Excess Logic has been recycling equipment in and around your community for a lot of years and has grown to become one of the most trusted recyclers in the state of California. With more than 400 businesses looking to us for everyday solutions to common technology challenges, we have developed a complete line of services to assist companies with their recycling, remarketing, and equipment resale needs.
No-Cost E-Waste Recycling
We provide a free service to the greater Fremont community that you may be currently paying for- and we do it out of love for our local environment and concern for our state's future. It's no secret that dumping e-waste into our landfill is a danger we can no longer afford to overlook. The US alone disposes of nearly 1.5 tons of e-waste annually. Partnering with businesses like yours, we're able to do our part to keep e-waste from becoming a hazard to future generations.
Call us for free e-waste recycling of equipment you're no longer using. We can repurpose equipment that is still usable and can even remarket surplus equipment that still holds a resale value. It won't cost your company anything for us to come into your facility and set up a recycling bin in a convenient area of your workplace- we'll do the rest.
Surplus Asset Marketing & Sales
If you're like a lot of companies in California, you probably have a dedicated space in your warehouse or facility where surplus equipment is taking up room that could be better used for operations. It's not uncommon for unused, unwanted, or out-dated equipment to sit for years before a plan of action to remove these items finally evolves.
At Excess Logic, we implement Total Equipment Removal that involves the quick and seamless removal of your surplus equipment. If your assets hold resale value, we'll store the items while we remarket them, take care of all of the details required to sell them, and finally, we'll share the profits with your company. Our marketing, appraisal, storage, and fulfillment services are 100% free to your company.
Recover Lost Value
We know that businesses like yours cannot afford to be wasteful when it comes to spending, which is why we partner with companies like yours to assist clients in taking a proactive approach to managing their assets. Understanding that obsolete equipment can still hold significant value on the market is the first step in reclaiming lost profit. You can see a complete list of lab equipment we can help you market and sell by visiting our 'Services' section and selecting Lab Equipment from the menu. We also resell IT equipment for companies throughout the community.
Call one of our Excess Logic specialists about recycling equipment that's taking up space at your facility. Whether your equipment is ready to be recycled, can be donated, or is eligible for resale, you'll find we are the right agency to call.