Call ExcessLogic For Cost-Effective Data Destruction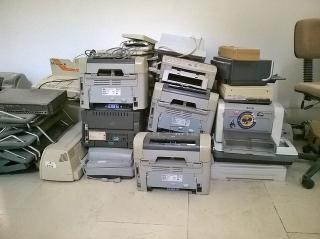 data destruction" /> 
More than 400 businesses across California trust ExcessLogic with their data destruction needs. If you're looking for a company that can remove unwanted assets or recycle electronics for your company but worry that your company's sensitive data will fall into the wrong hands, contact an agent from our company, and we'll offer additional information on our data destruction process that will give you peace of mind.
Reliable Disposal and Destruction
We perform a process that follows all US DOD standards, requiring a multi-pass erasure of the entire disk. You can watch a brief video on our website that explains and demonstrates our asset disposal process. If your computers store client and employee information as well as highly confidential company data, it's necessary to work with an agency that can remove all traces of ID on any retired equipment. Consider ExcessLogic for hard drive shredding, degaussing, and crushing, data erasure, tape destruction, and lockable bins for hard drive storage.
Avoid a Data Breach
A recent NAID study has disclosed that 40% of used electronic devices and assets sold on the market contain PII, or what experts call personally identifiable information. Keep credit card information, contact information, usernames, passwords, data, tax information and other info secure by contacting ExcessLogic for professional data destruction services.
If your company is storing unwanted assets or other electronic waste in a storeroom or unused area of your facility, chances are they will eventually end up being recycled in a way that is not secure. We can pick up your equipment at no cost to you whatsoever and provide expert data destruction services that will eliminate the possibility of a problem down the road.
Why ExcessLogic?
Your assets remain safe in our guarded processing facilities while they are being stored and prepared for data destruction. Our facilities are protected by intrusion alarm systems and CCTV surveillance with limited access to employees who are not involved in the data destruction process. When the process is completed, we'll provide your company with a Certificate of Data Destruction for each item.
Looking for Cost-Effective Solutions?
Contact ExcessLogic when searching for a secure solution to your hard drive shredding or data erasure needs. We can provide detailed reporting for your company's records- just let us know more about your needs when you call us or reach out to us through email.
Avoid the Most Common Pitfalls
It surprises many of our customers to learn that deleted files can easily be recovered from their computers and other assets. Deleting a file is not considered a safe enough practice- your data must be destroyed entirely by a professional agency that can ensure it is irretrievable; that's where we come on.
One call to ExcessLogic and your data issues will be a thing of the past. We have a long and growing list of satisfied clients who trust us with their company's information. We have earned a reputation throughout the state of California for excellence and reliability.