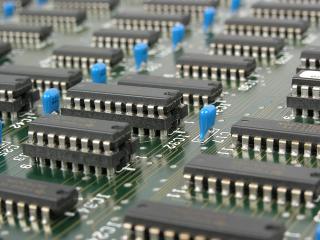 computer disposal" />
ExcessLogic is trusted by more than 500 companies in 17 states across Canada and the US for computer disposal and asset recovery services that save companies time and money. If you're looking for a better way to remove e-waste and electronic equipment from your company location without the high costs or hassles, give us a call. If you have out-dated or unwanted computers and other electronics taking up space in your building, we may be able to offer 100% free pick-up and removal services. We recycle:
Computers
Monitors
Telephones
Networking Gear
Hard Drives
Laptops
And Many Other Electronics
Reduce, Reuse, Recover
Companies that do business with less-than-reputable recycle companies have no idea that their electronics end up in the local landfill, posing multiple problems for their business. If your company's equipment is found in a landfill or other area left abandoned, it could be traced back to your business, and you may be significantly fined. In the worst-case scenario, your company's data could end up in the wrong hands, posing a significant security threat to employees, customers, clients, and the company itself.
A Better Way to Recycle
Call ExcessLogic for computer disposal, and we'll guarantee sanitation and data destruction before we send your equipment to be recycled. We have an impeccable record of keeping a high percentage of equipment components out of landfills- where they don't belong. Ours is an eco-friendly solution that will allow you to rest easy, knowing your equipment is in qualified, capable hands. Our computer disposal services are performed per all local, state, and federal regulations and guidelines, right here in North America. We never send equipment overseas or dump it in our landfills.
Raising the Bar
Amazingly, only 13% of e-waste is recycled correctly in the US. With more than 20 million TVs, 41 million computers, and 152 million cell phones being disposed of every year, those numbers add up to an incredible amount of e-waste ending up in areas where heavy metals can leach into soil and groundwater. The US produces 9.4 million tons of e-waste every year- make sure your out-dated computers and electronic equipment do not add to the growing problem. Make a call to ExcessLogic for convenient computer disposal that will leave you free to manage your business.
Multi-Reasons to Call Us
Improve corporate profitability with our computer disposal services. Our clients see a 300-800% increase in recovery than from working with liquidators or resellers. If you're in charge of having equipment removed from your company's premises, we're the right call to take care of the problem. In some cases, we can provide next-day pick-up service, and we can even assess your equipment for resale market value, offering a way to increase revenue on a consistent basis. We're trusted by many of your neighboring businesses throughout the US and Canada- call us to learn more about our services.
We welcome your comments!