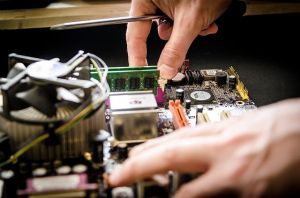 asset disposition" />

Proper IT asset disposition (ITAD) is a must for companies today. However, the benefits of proper IT asset disposition extend far beyond governmental compliance. Sure, e-waste has become a major problem, and IT recycling companies like Excess Logic are helping companies like yours to not only stay in government compliance but also to protect the earth. Disposing of our waste responsibly is essential to protect our planet, and this is the most important benefit of professional ITAD services.
Of course, you could take the DIY ITAD approach, but that is risky, costly, and time-consuming, not to mention difficult! Why not hire Excess Logic for all of your ITAD needs? We have the tools, equipment, resources, and knowledge to manage everything from the logistics to the destruction or resale of your IT assets safely and efficiently.
Our ITAD Services Can Keep Your Company Safe
Chances are, much of your older and now obsolete IT assets were used at some point to store and transmit highly sensitive data, intellectual property, and other business information that could harm you if it fell into the wrong hands. Excess Logic can help you dispose of your old equipment in a way that is not only environmentally-sound and not only compliance-based; but we can also erase all of your data, thereby eliminating any potential security risks posed to your company.
Why Pay for Professional Asset Disposition?
There are four key ways in which Excess Logic's asset disposition program makes it worth its weight in gold. Starting with transportation and logistics, Excess Logic will come to you, sort out all of your unwanted IT equipment, label each piece according to reusability, and then provide transportation to our plant where responsible destruction or refurbishment takes place.
Can I Resell My Unwanted IT Assets?
When and where possible, we will refurbish your old IT equipment to try to resell it for value. The money gained from reselling will cover at least some of the cost of your ITAD services, and you might even see a small profit from it or break even. There are plenty of new startup companies who would love to get their hands on your old IT equipment!
Contact Excess Logic
As mentioned, data destruction is crucial whether we recycle or refurbish your IT assets. We will provide you with verification that your data has been erased, so you can rest assured that your old equipment is in good hands.
Any equipment that we take off your hands that is not reusable will be recycled in our plant. This way, Excess Logic is in possession of and responsible for your old IT equipment at every phase after we take it from you. Any salvageable metals or components will be fished out for reuse, and non-recyclable parts will be incinerated. Further, you can count on Excess Logic to provide detailed reports of every single piece of equipment we take from you, large or small, so you know exactly what happens to everything.
With Excess Logic, responsible asset disposition is just a phone call away.
We welcome your comments!