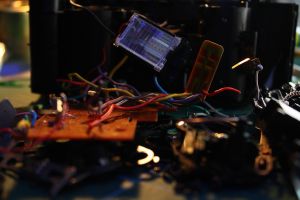 asset disposition" /> 
At Excess Logic, our business is based around destroying and recycling obsolete and unwanted IT equipment in an environmentally safe and responsible manner. Electronic waste or e-waste is a rapidly expanding problem around the world. Due to the improper disposal of hazardous electronics and IT equipment, e-waste has caused both serious health and environmental damage around the planet. IT asset disposition (ITAD) involves a range of processes to decommission, remove, refurbish, or recycle old or unwanted IT equipment because we feel that is our duty to do our part to protect the earth.
How ITAD Works
When you call Excess Logic, we can perform an on-site or remote audit of your used equipment and give you a fair market assessment of the value you can expect to receive for your unwanted hardware. For security purposes, our team ensures that all sensitive data will be removed before it leaves your facility. Excess Logic strives to resell as much of your excess equipment as possible, and we'll recycle what we can't sell. Either way, we will provide you with complete paperwork regarding exactly what's been done with your equipment.
Why Choose ITAD?

IT asset disposition services are very popular today because it ensures that your data is secure, and it's a great way to get further value from hardware that you are no longer using. Many kinds of equipment can't be disposed of easily, and removal can be expensive. That's why Excess Logic can also refurbish your old IT hardware. Refurbishing old IT equipment extends product life and is great for our environment.
Excess Logic Buys IT Equipment
If you have old hardware that you're looking to get rid of, Excess Logic is always happy to remove data center equipment from manufacturers, such as Dell, HP, Cisco, and Oracle. If you are unsure about your equipment, feel free to give us a call. We'll be glad to let you know if there's any value in what you have. Simply contact an Excess Logic representative with a list of your equipment, including a list of servers, list of networking equipment, list of parts, and a list of all hardware, and we will review your excess inventory to determine its value.
Choose Excess Logic
When it comes to ITAD, Excess Logic leaves nothing to chance. Mobile devices, laptops, printers, scanners, and even servers that store important business data are disposed of in an environmentally-friendly way. Our IT asset disposition professionals will work with you and accommodate your needs and schedule to coordinate a plan to remove your old IT gear anywhere in the United States. We've got all the tools, equipment, trucks, and manpower to pick up any size load. So make the right choice, and call Excess Logic today for all of your ITAD needs. Our staff is eager to help you make the most of your IT investment and to protect the environment from hazardous e-waste.
We welcome your comments!