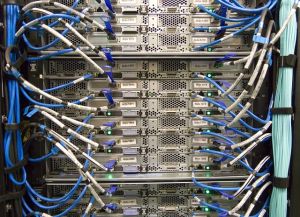 data center decommissioning" />
Contact Excess Logic for all of your data center decommissioning needs. We are an environmentally-friendly ITAD firm that uses the best practices in ITAD and data center decommissioning. The process doesn't have to be stressful or complicated. All it takes is one call to Excess Logic, and we'll make quick work of your decommissioning project.
What is Data Center Decommissioning and Why is it Important?
The most powerful tool you have is information and having that information up front in your decision-making process is crucial! Excess Logic will come to you and perform a quick review of your facility. We'll find out exactly what you need during the decommission and to what extent it's needed. We'll determine the equipment that is present and get a scope on the project. Next, we'll conduct an evaluation of the equipment set for decommissioning and perform a passthrough-type process with full transparency.
Our goal is to obtain 100% return on investment of the fair market value of your equipment. What sets Excess Logic apart from the rest is that the data center decommissioning industry is fraught with equipment brokers who say they perform data center decommissioning, but they are really after is the high-value assets, which can include the generator and the UPS. Clients who don't have these items are often turned away.
Excess Logic has created a solution for folks who have an environment that might be aged and that doesn't have a lot of value, but they still need to have the project completed. These individuals still need to decommission the site. We can handle any decommissioning project of any size and scope.
Excess Logic will perform the evaluation with the goal of getting a high return on investment. If we can't, then our goal is to keep the project cost low, so it's a success. This way, if there is an out-of-pocket expense for the client, we keep the cost down by applying a fixed fee for our services.
What Should Companies Think About When Migrating Data Centers?
When you are migrating a data center, as far as uptime is concerned, there are multiple things you should be aware of. There's the redundancy of making sure that while you migrate you don't go down, and of course, the speed of migration. These are a couple of the things you will want to pay attention to.
Having a clear plan and budget ahead of time can be very helpful and beneficial at the level where these decisions are made.
In the past, these decisions used to be made at the facility's manager level. Now, they are made at a level with the stakeholders, such as the VPs.
What are Some of the Biggest Trends We are Seeing in the Data Center Industry?
The biggest trends in the data center industry right now are, first, that large companies are building data centers. At the same time, there has been a two to three-year stall in the smaller companies building data centers. However, we are seeing more and more companies projecting out and actually talking about projects.
We welcome your comments!