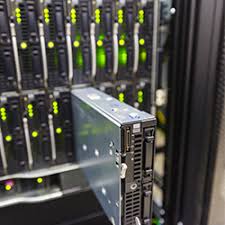 data center decommissioning" />
In today's digital world, the need for reliable data center decommissioning is on the rise. Excess Logic is here to fill that need. Today, companies use cell phones, tablets, laptops, computers, servers, and other electronic devices to collect, store, and transfer massive amounts of data. This data may include customer and employee information as well as highly confidential and sensitive company information, such as a company's product research, marketing strategies, trade secrets, and financial data.
If your data center is getting a technology upgrade or being consolidated, the process is intense. The smallest mistake could cost your company millions of dollars and cost you your job. Intricate logistics and professional data center decommissioning are two of Excess Logic's most sought-after services. Since we offer vetted technicians, our team of professionals is trained to handle your entire data decommissioning project.

Excess Logic Provides Grade-A Asset Management Services
When it is time to renew their equipment, all companies have three must-do things to accomplish:
1. Safely destroy data from hard drives and all types of media
2. Dispose of all end-of-life assets in an environmentally-sound way
3. Maximize the recovery value of company assets
To meet these requirements, Excess Logic has developed the best-in-class asset management program. Our services are all based on meeting the needs of the asset disposal requirements of hundreds and hundreds of national and multi-national companies, such as AT&T, Analog Devices, and Hitachi. Excess Logic provides comprehensive excess IT asset disposal and remarketing solutions for all companies, including data centers, collection, and hosting companies. No job is too large or too small for our team.
We've Got Everything You Need for Professional Data Decommissioning
It doesn't matter how large your project is because no job is too big for our experienced, skilled, and highly trained techs. Plus, Excess Logic can service any location in North America. Onsite audits include serial numbers, make and model for each piece of equipment and hard drives, and secure chain of custody reporting. Your equipment is always accounted for with our trucks' GPS tracking systems and onsite documentation process.
We Offer Onsite and Offsite IT Asset Decommissioning
When you need hardware dismantled, deconstructed, removed, recycled, or remarketed, think 'Excess Logic.' This can include:
Servers
Disc Arrays
Tape Subsystems
Networking Gear
+ Other Data Center Equipment
Excess Logic process all digital media according to the highest data security standards. Our dedication to such high standards safeguards your delicate corporate information, protects your brand's reputation, and eliminates your compliance risks. Excess Logic provides both onsite and offsite data destruction to give our clients the option to witness the destruction of data in-person. Plus, we provide certificates of destruction when destroying data offsite.
Protect Your Company by Partnering with Excess Logic
Our goal is to maximize client value and ROI on equipment throughout the remarketing of excess equipment and IT assets. Excess Logic offers certified data destruction to ensure your compliance requirements are always met. We have the highest industry insurance, completely protecting our clients from any liabilities. Excess Logic has the industry's most thorough data center decommissioning checklist.
We welcome your comments!