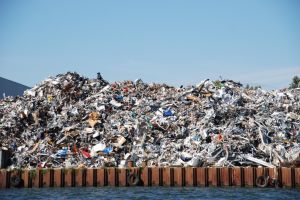 Wastes are materials that are not prime products (that is products produced for the market) For which the generator has no further use in terms of his/her own purposes of production, Transformation or consumption, and of which he/she wants to dispose. Wastes may be Generated during the extraction of raw materials, the processing of raw materials into Intermediate and final products, the consumption of final products, and other human Activities. Waste types include Municipal Solid Wastes, Industrial Solid Wastes and Agricultural Wastes and also E-wastes of which this article is concerned. E-waste or electronic waste are wastes generated from discarded electrical devices. Used electronic devices which have been set apart for re-use or recycling or disposal are also classified as e-waste.
Improper waste disposal or management leads to a lot of environmental hazards, pollution and can adversely affect the health and wellbeing of people. E-waste contains a lot of potentially harmful components like lead, beryllium, cadmium, lithium etc. The process of recycling and disposal of these wastes could lead to significant health risks to workers and the whole community. Also records have it that about 1.5 million children die every year from polluted water. This polluted water comes from waste materials that seeps into the groundwater from landfills. This therefore shows the importance of a good e-waste disposal and recycling management plan.
The solution is here. At Excess Logic, our E-waste Recycling division provides solutions to your e-waste problems by providing you with stress-free e-waste recycling services for your laptops, desktop computers, electronics, electronic waste, and other electrical equipment. We help your company recycle these equipment. In many cases, we can provide up to 100% free of charge recycling services and also pick-up services of e-wastes in Fremont, San Jose, Santa Clara, Milpitas, Sunny Vale, Mountain View, Redwood City, and throughout California. In doing so, we have made e-waste recycling very much convenient in Fremont and the other cities. Our mission is to be a "Zero Pollution" computer recycling company and we transform your discarded electrical equipment into a source of revenue. We also dispose of surplus and used up equipment, remarket them for value and share the profits with your company.
Excess Logic also disposes sensitive data on your waste equipment in a safe and secure manner without putting you at risk. We adhere to and comply strictly to the Standard set by the Department of Defense (DoD 5220.22-M) disposal standard which requires seven passes. You can also be confident in our downstream partners who also hold licenses in the state of California, hence your e-wastes are recycled in full compliance with statutory regulations from regulatory bodies.
More recycling of e-wastes means more jobs, more revenue, a safer environment free of pollution and pollution generated hazards and of course less child deaths from polluted water. E-waste recycling saves lives and generates income and jobs and so is very necessary and important. You can be a part of the e-waste elimination campaign today by dialing 650-307-7553 whenever your company has e-waste to dispose of. You will be glad you did and by doing so, you will be impacting positively on the environment.
We at Excess Logic are friendly and professional, prompt and well organized and we will surely take care of your e-waste disposal and recycling needs. Contact us today and say goodbye to your e-waste issues. We will always be there for you
E-waste Fremont
We welcome your comments!