The Power Of Knowing Where To Recycle Computers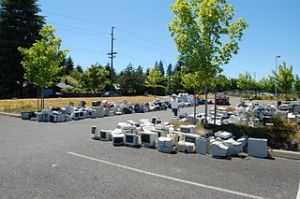 Knowing where to recycle computers is a terrific step towards helping the environment. Precious metals and minerals that do irreparable damage to the environment proliferate in computers. Gold, rare earth minerals, and other compounds which contaminate groundwater. Critical data stored on these devices also threatens the security of your company.
Why should I use a professional electronics recycling services?
Modern companies promote a green image as well as knowledge of data security. This means handling waste carefully. Failing to properly dispose of computers and information storage components seriously effects your brand image.
Proper disposal requires stripping electronics of the metals which harm the environment and taking care of data needs. These metals must be appropriately disposed of and are highly reusable. Facilities are certified by R2 to handle these devices.
Disposal is also a vital means of eliminating security risks. Hard drives and other storage systems maintain data even when a computer is inactive. Unlike RAM, these electronics shift bits on hardware in ways that never change.
Different industries have different disposal needs. We work with labs containing testing and support equipment, manufacturers with ceramics and even medical devices, and a variety of other services. This expertise allows us to achieve the most value for our clients.
A certified recycling center understands how to dispose of electronics. Shredding services are available that completely eliminate risk.
ExcessLogic safely and ecologically disposes of devices. We are a certified service in North America with the ability to keep your brand image and vital information safe.
What is the recycling process?
Equipment becomes outdated over time. Companies maintain knowledge of their assets. However, this is only the start of a more complicated system ranging from removal to remarketing.
The process is itself a cycle. Electronics are identified, removal and pickup occur, our company establishes a chain of custody, data destruction and sanitation occurs, and sales are initiated. We proceed to share revenue with our clients before the process beings again.
Is there a cost benefit to recycling my depreciated assets?
Governments offer incentives to dispose of hardware properly. An understanding of the precious metals and value of equipment creates a further opportunity.
Non-profits, in particular, see a significant benefit to using recycling services. Organizations in America qualifying under Section 170(c) can deduct up to fifty percent of the cost of their equipment.
Meanwhile, our firm works directly in a multi-channel remarketing network that offers significant benefits for our consumers. Certain customers receive up to fifty percent of the net proceeds from the sale of their equipment. We help clients recover 300 percent more value than liquidators and 800 percent more than resellers through access to domestic and international marketplaces.
We work with biopharmaceuticals, electronics manufacturers, energy, industrial manufacturing, consumer brands, and retail to dispose of electronics and other assets properly. Special opportunities in remarketing channels offer further incentives to work with us.
Contact us if you are wondering where to recycle computers. Our professionals achieve the most value from your outdated equipment.