The Types Of E-Waste You Should Bring To E-Waste Recycling In Mountain View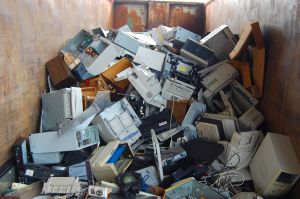 e-waste recycling mountain view" />As there is always faster and better equipment to buy for your business, IT departments around the world have electronic waste just collecting dust. Throwing these items into landfills is just irresponsible considering that there are precious metals and toxic materials that should be sorted out. If you have excess in your IT department, consider checking out your local e-waste recycling in Mountain View.
Old Desktops and Servers
If your business has a stockpile of server blades or desktop towers, that is likely to be a big heavy mess to have around. Since there are precious metals within its components and steel or aluminum in the case, you should haul it to an e-waste recycling Mountain View.
Server and Network Racks
Server racks are very useful to keep your switches, routers, and blade servers well organized and compact. Unfortunately, as companies are downsizing, there are lots of racks that are left that cannot be resold on the second-hand market. Since there is lots of metal in them, you would only be doing the world a favor by recycling them.
Considering the size and weight of a typical rack, you may need to hire someone to haul it in bulk. Some recycling centers will also specialize in transport and disassembly of your equipment to save you precious time.
CRT Monitors
While any monitor can be taken to your local e-waste recycling in Mountain view, CRT monitors need special care. Not only are they hog power, but they also leave behind nasty contaminants that need to be dealt with.
Heavy metals like lead, or beryllium are just sitting there behind the big, heavy glass and that's not something you want to leave behind for future generations. Get some new low-power LCD monitors and properly recycle your CRT monitors.
Loads of Cables
If you are downsizing or liquidating your IT department, there are likely lots of old network cables that are hard to sell. Since there is copper to be recycled or simply repurposed, you should definitely haul it to a recycling center.
CD and DVD Drives
With USB mostly replacing portable storage needs, you are likely to no longer need a bulk of your disk drives. Since they are so cheap on the second-hand market, it would be best to take it to a recycling center.
If you are still holding on to your optical disk drives for operating system installation, it should be noted that OS deployment may also be done with USB thumb drives or over LAN. Even for older machines, that is the case.
Photocopiers and Scanners
Big office scanners or photocopy machines are big bulky objects that are hard to get rid of. While they may have served their purpose over the years, there are simply more efficient models that most offices are upgrading. You may need help hauling them off since most models are extremely heavy.

Final Thoughts
Here at Excess Logic, we know how to efficiently and safely get rid of old IT equipment. Give us a call at 650-307-7553 to find out how we can help.