Your Go To For E-Waste Recycling In San Jose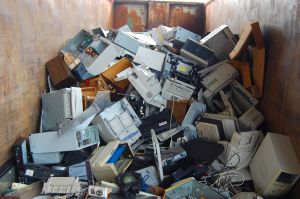 e waste san jose" />E-waste recycling in San Jose is becoming more and more crucial. We all need to do our part in order to stem the tide. Water related diseases are wiping out our children at a horrific rate and we could all stand to do more to help out.
This is where proper e-waste recycling comes into play and we are the perfect San Jose outlet to assist you in this regard. At Excess Logic, we know how to provide you with the tools you need to make a proper choice.
Every day, over 4,000 children pass away as a result of water disease complications. These numbers are staggering and they are a direct cause of poor e-waste disposal methods.
While you may believe that throwing away e-waste in a normal manner is perfectly okay, this disposal method is actually incredibly dangerous. Once the e-waste is placed inside of a trash bin, it makes its way into the local landfills. From there, it becomes part of our children's drinking water.
How Can Excess Logic's E-Waste Recycling Team Help Out?
When it comes time to recycle all of your electronic waste, our team knows just how to assist you. Laptops, desktop computers, biotechnology equipment, laboratory equipment and semiconductor equipment all must be recycled properly to decrease the amount of e-waste that is created.
Our seamless solutions must be implemented as soon as possible. In a number of instances, we are able to provide these services free of charge. Pickups are provided on a same day basis as well. Computer recycling has never been easier.
Various Solutions Provided
At Excess Logic, we also understand the importance of offering various solutions. Whether you are looking to dispose of biotech waste, medical waste or measurement excess equipment, we offer a solution that allows you to turn the waste in a viable revenue stream. The surplus equipment is disposed of and if you are looking to re-market to raise additional money for your company, you have come to the right place.
Secure and Safe Disposal
We offer you the peace of mind that you cannot receive anywhere else. We are more than willing to guarantee a safe disposal for all of your e-waste in the San Jose area. Thanks to our adherence to the disposal standards that have been established by the Department of Defense, all of your needs are met in a timely and safe fashion.
Proper Licensing
By relying on Excess Logic, you are choosing a company that has received all of the proper licensing in the state of California. We remain in full compliance with the regulations that have been established by the Environmental Protection Agency. All of the state disposal regulations are monitored so that we can remain on the cutting edge at all times.
Our company is well organized and we provide assistance in as prompt of a fashion as possible. Any heavy lifting that you need help with is taken care of by our helpful staff and we make sure that you are making the right choice each step of the way.