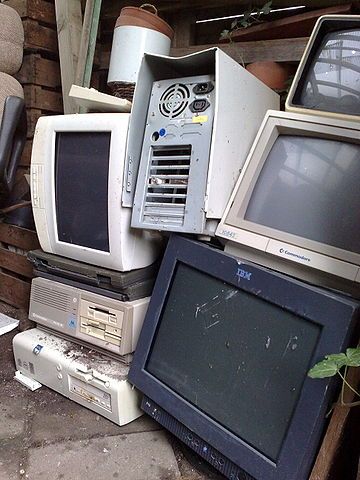 recycle electronics" /> 
Are you looking for a few good reasons to consider recycling at your place of business? If the thought of preserving your company's financial resources doesn't motivate you to recycle, consider the benefits to your local environment that come from effortless electronic recycling with ExcessLogic. We can drop off a recycle bin in a location that is convenient for your employees and pick up all unwanted electronics at no cost to you. You read that right- our recycling services are 100% free, and there may be additional benefits to you, as well.
Why Should My Company Recycle?
High-cost recycling significantly reduces the motivation to recycle. At ExcessLogic, we understand that for a lot of companies, it's just easier to store unwanted electronics and assets and deal with them at a later date. If you're like most businesses, you probably have an entire room or part of your warehouse with assets piling up. Perhaps you've been delegated by your company to find a solution to the problem, and if that's the case, we have great news for you: you're going to save your company a lot of money when you call us. Here's why:
ExcessLogic picks up unwanted and out-of-date electronics, lab equipment, office machinery, and other assets, at absolutely no cost.
If your assets can be resold, we'll do all the work and share our profits back to your company.
We make it effortless on the part of your workers to recycle.
Your unwanted assets could prove to be a steady stream of unforeseen revenue.
We're a full-service recycle & disposal company serving your community
500+ companies rely on us for our services, so we are reliable.
What Are the Benefits of Recycling?
When your company commits to recycling your e-waste, you're taking a hard stand against a unique type of pollution we don't typically see every day. Some components in e-waste take thousands of years to break down, so they take up a lot of space in our local landfill, while other parts break down quickly and end up polluting drinking water and soil. Recycling makes it possible for plastics, metals, and other components to preserve resources during the manufacturing process- it also creates local jobs, which is a massive benefit to your community.
Why choose ExcessLogic?
Other recycling companies charge to recycle electronics, starting with a hefty pick-up fee. That's not the case with us- we'll provide you with a convenient tub that is easy for your staff to access, and we'll come by to pick up your e-waste without charging you a dime. If you have assets you're currently storing, we'll come out and take a look at your equipment and let you know if we can resell them. If we profit, you'll profit, as well, through our profit-sharing program.
Call us today to find out how we can make it easy for you to recycle electronics, equipment, machinery, and other assets you're no longer using on the job.
We welcome your comments!