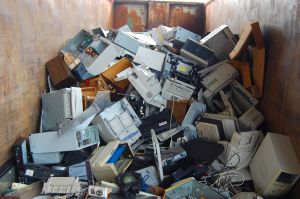 recycling equipment" />There are a lot of benefits associated with recycling equipment that your company no longer uses or equipment that is out of date. Just because your old tech equipment no longer is up to date enough to compete in your market does not mean that the equipment is not any good, as it could be useful to other people. When you rely on the solutions that we can provide to you at Excess Logic, you can receive a portion of the profit from the recycling and disposal of old equipment. At Excess Logic, the most common that we have noticed that businesses experience is leftover IT equipment after company upgrades. Many businesses just are not sure what to do with the old tech equipment once they have upgraded. It is understandable that people would be confused because it can be hard to profit from selling old equipment. However, that is where our experts at Excess Logic can come in handy.
Recycling and Disposal of Old Equipment
When you downsize or upgrade your equipment, you can save a lot of time and money by letting our team at Excess Logic help you remarket the items. Instead of paying to store assets that you no longer have use for, let us help you sell them for eighty cents on the dollar. You are definitely not going to get rich by selling your old equipment, but our team at Excess Logic can help ensure that you do find the right market for your items. We can also help you set up charitable donations from the recycling and remarketing of old equipment. Nothing is better for the reputation of a company than choosing to give back to their community. At Excess Logic, we offer a one stop solution program that will take care of disposing of your assets in a timely manner.
Multiple Locations Available to Serve You
There are multiple Excess Logic locations available to help you dispose and recycle old or outdated IT equipment. We take a great amount of pride in offering top of the line services that you can depend on. We strive to provide the highest level of customer service and care so that you can rest easy knowing that you made the right choice to rely on our services. From lab equipment to IT equipment and everything in between, there is nothing that we can't handle at Excess Logic, as our experience is truly a force to be reckoned with. Our staff will go above and beyond to ensure that your needs are catered to fully. Our one of a kind services are always available when you need them the most.
Reach Out for More Detailed Information Today
You should reach out for more detailed information about our services at Excess Logical today. Our staff would be thrilled to answer any questions that you may have, as well as help you set up a service plan that will provide you with real time results. We look forward to putting our experience and expertise to work for you.
We welcome your comments!