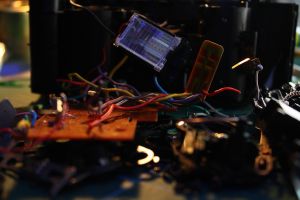 Electronic disposal and Recycling involves the disassembly and separation of the components and raw materials of electronic of electronic wastes. Since the inception of computer recycling in the early 1990s, more electronic equipment have been recycled all over the world due to the gains and investments it brings. The process of electronic disposal and recycling involves the recovery of plastics, metals, precious and rare metals which are in short supply from these used devices. These extracted components are then either resold, or used in making new devices after undergoing purification. The effect of this process is the creation of a cleaner, safer environment and a circular economy. Hence with electronic disposal and recycling, used up computers and other electronic devices are prevented from piling up in the landfills and causing environmental hazards. Instead, they are reused and recycled.  
Excess Logic has a world class electronic disposal and recycling department which provides electronic disposal services and electronics recycling pick up. We implement the three types of waste management which are Recovery, Reuse and Reduction. We have a team of professionals who can handle your businesses electronic disposal needs. Our electronic disposal services involves an eco-friendly solution for the recycling of old computers, laptops, servers, telephones, networking gear and e-waste when it is time for your hardware upgrade.
Our services cut across hundreds of businesses in San Jose, Santa Clara, Saratoga, Cupertino, Milpitas, Fremont, Sunny Vale, Mountain View, Palo Alto, Redwood City, Oakland, Berkley, San Mateo and the surrounding areas. We retrieve electronic equipment from these areas and recycle them. Our services are trusted, convenient, secure and responsible. We sanitize hard drives and other storage media with multiple passes, or remove and physically destroy the equipment.
We also sensitize the populace on the best practices for proper electronic disposal . Below are some tips:
1. Do ensure that wipe your hard drives to remove personal data or you can request for our team of specialist to do that for you.
2. Make sure you do not give away your computer to quacks, as you will in turn be adding to e-waste pollution which degrades the environment and could be fatal too.
3. Make use of environmentally friendly electronic disposal services to safely handle your e-waste disposal and recycling processes.
4. Electronic disposal must be done efficiently to ensure that the process is cost-effective and not hazardous to the environment.
5. Ensure that your computer data is not compromised by handing it over to Excess Logic to handle.
Excess Logic's services are carried out in strict compliance with EPA regulations. We are committed to developing a network of community Eco-centers to bring about a convenient and responsible electronics recycling to our clientele. Why not connect with us today by dialing 650-307-7553 and then relax as we handle your electronic disposal and recycling needs. You will be contributing your own quota to the reduction of e-waste pollution and hence reducing the pollution of groundwater resources by pollutants. Play your part, we are at your service.
Electronics Disposal
You have an error in your SQL syntax; check the manual that corresponds to your MariaDB server version for the right syntax to use near 'AND ba.deleted != 1 AND bb.deleted != 1' at line 1