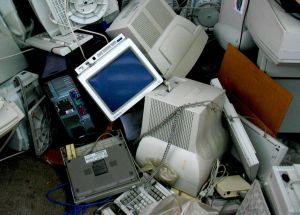 recycle computer parts" />Recycling computer parts was not a thing until roughly two decades ago. The availability of land did not help the fact that waste electronics were filling up land mines and causing toxicity. E-waste became a term when Dell began rolling out programs that allowed users to send back their computers for recycling.
The process of sending in a computer to Dell was too tiresome and complicated for most computer owners. Small developments then began collecting machines and sending them off for recycling to faraway lands. The option was easy and inexpensive to alternative recycling methods. The downside of this process was that these foreign lands began to develop the side effects of pollution, such as autoimmune illnesses.
Today
As people woke up to the benefits of recycling computer parts, independent firms came up and diversified the type of electronics that could get recycled. Excess Logic strikes a healthy balance between recycling and compassion because we recycle our waste within specialized industrial areas within the United States. More people have established recycling points to reduce the shipment of waste to other countries, making the procedure accessible and easy for computer users.
The general process of recycling computer parts
The first stage includes collecting all devices to take them apart for further analysis. The units get arranged according to their condition and age. The relevant staff records the information and catalogs the parts for the next stage of destruction.
The physical process begins by destroying data storage devices. The tags of assets on other parts are peeled off and fragments that do not hold any value advance to the de-manufacturing stage. These parts usually include metals, glass, plastic, and circuit boards. They pass through a shredding stage, so the melting stage is an easy process.
Unique benefits of the recycle of computer parts
Since the widespread onset of recycling computer parts, recyclers report of massive recovery of lead, fossil fuels, and other resources.
Recycling these materials reduces the need to mine some more, hence the ultimate result is an improvement green earth.
The current state of recycled materials
A recent United Nations report indicates that the US produces at least 6.3 million tons of e-waste. The amount accounts for fourteen percent of waste in the world. In 2016, only twenty percent of all e-waste had successful recycling.
The recycling rate of e-waste within the United States is approximately twenty-five percent. The UN also revealed that only sixteen percent of all recyclers follow environmentally safe methods.
The recycling status of Excess Logic
We have high standards of handling waste to have a responsible recycling process. Our rules have earned us a name among big tech giants, who now partner with us to recycle computer parts. Some of them include Google, Huawei, and AT&T.
Since the establishment of the firm, Excess Logic continues to garner positive reviews from clients. They recognize the working enthusiasm of the staff, prompt pick-ups, and fast response to all concerns. It is fair to conclude that Excess Logic has an admirable ability to retaining clients.
We welcome your comments!