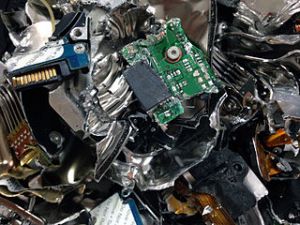 electronic recycling for cash" /> 
You thought electronic recycling for cash was a waste of your company's time and resources- but what about the benefits to the local environment that come from recycling? ExcessLogic can keep your outdated and unwanted electronics out of the local landfill, preserving our beautiful corner of the world for future generations to enjoy. Best of all, we make the entire process streamlined for your employees, so there's minimum work involved in recycling- and it's free of charge.
What Are the Benefits of Recycling?
Recycling ensures the resources that have gone into manufacturing your electronics get melted down and used a second time, which in turn, significantly reduces the resources that go into manufacturing new products. Additional benefits include:
Precious metals, which are limited in amount, are reused every time an electronic is recycled.
Plastics, which are not limited in amount, stay out of the landfill.
Natural and other resources are preserved
Recycling saves energy and creates new jobs.
Recycling keeps toxins from ending up in local soil and water tables.
How Do I Choose a Corporate Recycle Company?
You have many options as you search for a company that offers electronic recycling for cash. Look for a company that provides its services for free and provides financial compensation for assets that still have some value left in them. ExcessLogic is one such company that offers profit-sharing and free recycling for electronics that are non-working, broken, or out-of-date. Instead of paying a company to pick up your unwanted electronics, we can offer a 100% free service. Call us to drop off a recycle bin in a convenient location for your workers- we'll do the rest.
Can I Get Paid for Electronics?
Almost all companies have a warehouse or workspace dedicated to assets that are no longer being used or were eliminated during an upgrade. If you're storing assets, we can come out and take a look at your equipment and let you know if they can be resold. If so, we'll load your assets, transport them to our warehouse, market them, sell them, and share the profits back with you. We have strong ties throughout the world, with many buyers looking for out-of-date and unwanted equipment. Contact us to set up a time to come out and assess your electronics.
Additional Services Provided
ExcessLogic is much more than an electronics recycling company, although we are widely recognized for that particular service. Along with electronic recycling for cash, we also offer the following services:
ITAD IT Asset Disposal
Surplus Lab/Medical Equipment Disposal
Data Center Decommissioning
Asset Recovery
Computer Disposal
Data Destruction
Returns management
And More
More than 500 companies trust us with all of their excess asset decommission and disposal needs. Schedule a pickup right over our website using our free resources or call us to speak directly with one of our service experts. We'd love the opportunity to answer your questions and get to know you and your recycling needs better. We can handle any size or scope of recycling service.
We welcome your comments!